Seeking elopement ideas in the Margaret River region? Read on!
As someone who eloped herself, I am possibly the most understanding Celebrant EVER when it comes to supporting you through your decision to elope. In fact, I am so happy to help, here are some elopement ideas and packages to inspire you to run away and get married in the Margaret River region of Western Australia.
INCLUDED IN ALL ELOPEMENT PACKAGES:
You'll get married by one of the most popular Celebrants in the South West (voted #1 by brides, two years running!)
A ceremony that I wrote specifically for couples who want something meaningful, but short and sweet. (I'll email you a copy upon receipt of the booking.)
Witnesses if you don't have your own.
The use of my gorgeous Swarovski crystal pen.
If your ceremony is out of school hours, my daughter will even be your flower girl with flowers picked from our own garden! (Optional, but she loves throwing petals at brides, so she made me put this in.)
Forget the ceremony — I just want a Registry Office style wedding: $495 flat fee
For those couples who just want to do the legals with absolutely zero fuss. You can come to my studio in Cowaramup and get legally married, with a bare-bones ceremony. No readings, no guests, no dressing up (well, maybe a little bit!)… Just the basics. No booking fee required, but you do need to book a time and date to suit us both. Phone me on 0417 937 436 to arrange a date and time.
The easiest-peasiest budget-friendly elopement package:
$395 (+ booking fee*)
Get married at the Margaret River Heartland where I'm setting up dozens of romantic, bohemian and naturally-beautiful spots to say "I do."
For example:
Stand next to the dramatic dead tree (pictured, and featured in this video);
Under the 80-year-old flame trees;
In the natural forest (perhaps in front of the amazing LOVE sign?);
Under one of the dozens of majestic peppi trees;
By the Wilyabrup Creek;
In front of the simple garden arbor; or
Near the love lock fence.
You're welcome to explore… no doubt you will find a spot that is right for you.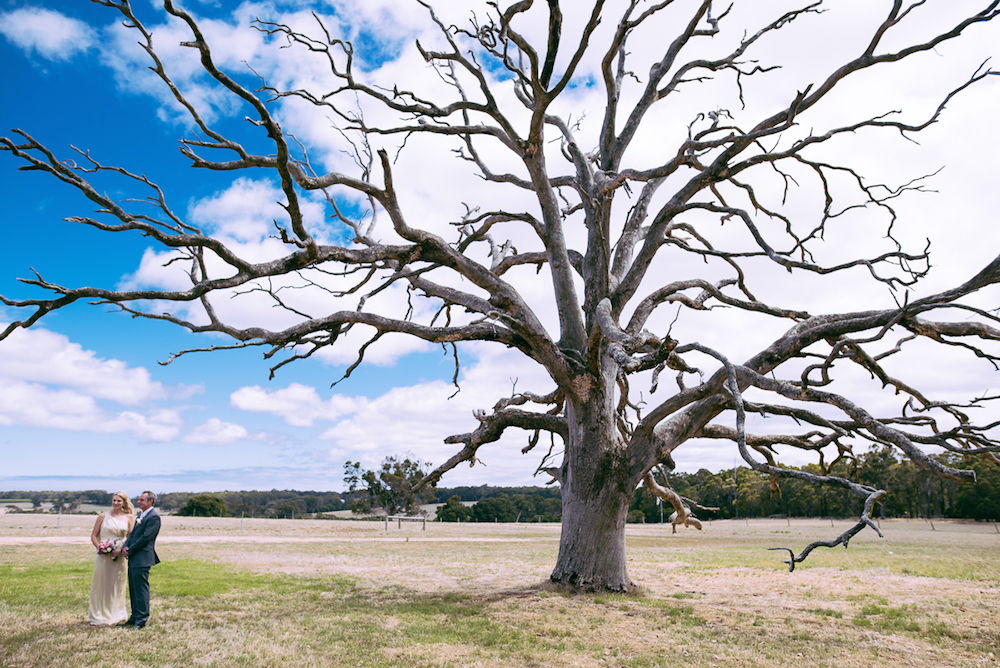 The Margaret River Heartland is located at 356 Miamup Rd, Cowaramup, Western Australia. Just 5 minutes from the township of Cowaramup and minutes from:

The "Further Afield" elopement package:
$445 (+ booking fee*)
Perhaps you have a specific spot in mind that you want me to travel to… This package will get me to locations within 25 minutes drive from Cowaramup and may include places such as:
Gracetown beach, jetty or lookout,
Pioneer Park in Cowaramup,
Any winery, brewery, cidery, silk factory or chocolate company north of Margaret River,
Any cave, forest, beach or lighthouse west or south of Margaret River to Augusta.

Can't decide? Want more guests?
How about choosing one of our pop up weddings Margaret River dates? We offer three of four dates a year to make your wedding planning easy.


Conditions (How you qualify for an elopement package)
No more than 6 guests have been invited. Any more than 6 guests and it becomes a "wedding". (Or a pop up wedding, if you want the ultimate in easy wedding planning.)
I'll send you a sample ceremony that you can scribble on and massage wording to suit yourselves. It's the perfect length for elopements — not so short you'll wonder what just happened, and not so long that you'll drift off. You can source your own readings and so on, but you won't have access to my ceremony planning kit.
That's about it!
How to book an elopement package
Simply select the package you'd like (below), indicate the date, time and location of your ceremony, and voila, you are booked!
Date only: $200. This secures me for your desired date, but no particular time-slot is guaranteed. You will need to be flexible around other weddings bookings I have that day. (Don't worry — it always works out OK!)
Date and time: $250. If you are absolutely fixed on a time that you'd like your ceremony, my  normal booking fee applies.  This will secure your date and time.
This payment will be processed by PayPal. I'll confirm your booking with a "next steps" checklist and the paperwork you will need to fill in, by email.
* Preferred time: If you absolutely require a nominated time-slot, my normal booking fee applies (this is the "date and time" option). If you are flexible with your time-slot (and happy to work around other wedding bookings), you qualify for the reduced booking fee (this is the "date only" option).

Yay, all done! I will be in touch immediately to start organising your special day 🙂

Shine on,
Anita Revel
Frequently Asked Questions About Eloping
Q:  Can it really be as simple as to do something in like a month or 2?
A:  Yes! You need to lodge your NOIM form with me at least one calendar month prior, but that's the only limitation with regards to "time". Lodge it with me on the 15th, and you can marry on or from the 15th of the following month.
Q:  Can our wedding be small – just ourselves and our 2 children?
A:  Yes! You do need two witnesses over the age of 18 and that speak English, but apart from that it can be as small as you like!
Q:  Can we Facetime our wedding so our relatives can watch it around the world?
A:  Yes! You can Skype it, Glider it, Instagram it, tweet it, Facebook it… Whatever your app, I'm happy for you to record / share your ceremony in any way you like.
Q:  I have more questions! Can I contact you?
A:  Yes! Phone me on 0417 937 436 (I'm GMT+8 time zone), use the contact form, or use the Facebook plug-in below to ask your question 😀 I'm at your service!!