Get married on Australia Day in this simple, light-hearted:
Pop up wedding Margaret River
Saturday 26 January 2019.
This Pop Up Wedding Margaret River is the chance for couples to marry in a simple ceremony in a private forest location in Cowaramup, in the Margaret River Region. All the essential details are sorted, so all you have to do is rock up, look radiant, and we'll do the rest.
Simple and sweet, light-hearted and stunning (!) Pop Up Wedding Margaret River Heartland! (On Australia Day!)
 INCLUDED in the pop up wedding Margaret River Heartland: $1450
Celebrant*: Anita Revel, described as modern, light-hearted and genuine;
Venue: You have the choice of two locations to get married:

In front of this epically gorgeous tree; or
In front of the LOVE sign by the private forest

Permit: I have booked the venue on your behalf — no extra paperwork required;
Choice of Photographer: You can choose between TWO professional photographers to shoot your candid moments as well as your official wedding photos — this gives you extra time to get a wider range of wedding photos than a standard pop-up wedding package;
Styling: Depending on the time of your ceremony,the photographer will want you standing in different spots to get the best photos. So styling will be kept to a minimum to allow for different angles;
Guests: Up to 10 guests is recommended, but we are flexible — in fact, we reserve the last timeslot of the day for those bigger wedding parties so you can mingle longer, meander in the forest, and relax before heading off to your reception dinner or soiree;
Witnesses if you don't have your own.
* You do have the option to choose your own Celebrant but you may be subject to extra fees.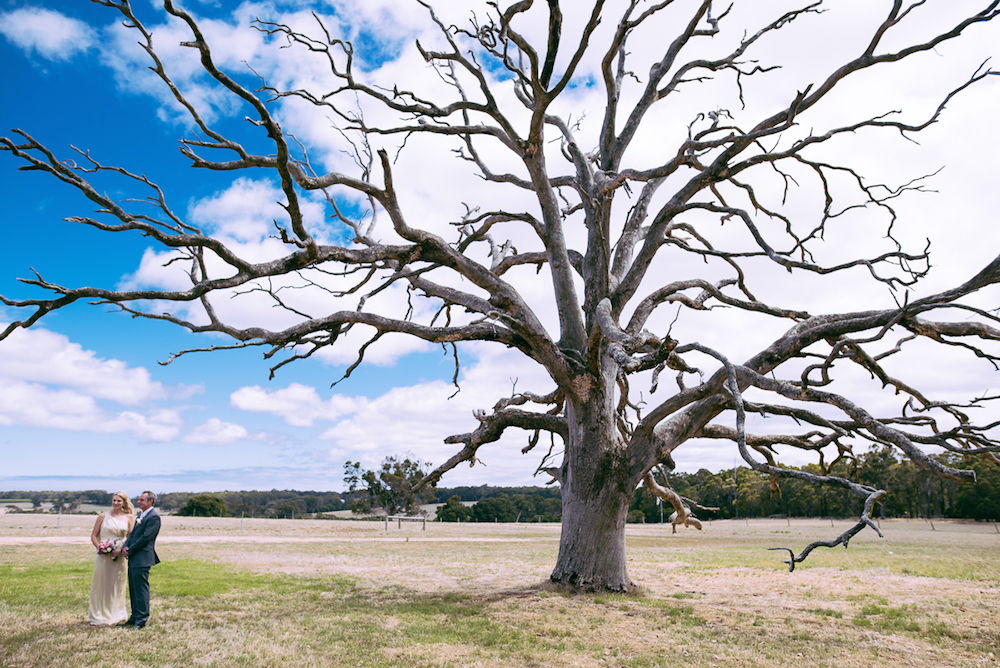 Optional extras:
If you do want some extras, please let's know your requirements and we will arrange a quote.
Cake
Catering
Music
Make-up
Flowers
Book your pop up wedding Margaret River Heartland Australia Day 2018
Time slots available: from 11am on the hour, all day. Simply register your interest below, selecting the time o'clock slot you'd like, and I'll contact you with "Next Steps". (I shall update this information as bookings come in.)
11am AVAILABLE (Photographer Kendra Benson)
Noon AVAILABLE (Photographer Paul Donegan)
1pm AVAILABLE (Photographer Kendra Benson)
2pm AVAILABLE (Photographer Paul Donegan)
3pm AVAILABLE (Photographer Kendra Benson)
4pm AVAILABLE FOR LARGER GROUPS (Photographer Paul Donegan)
Note: You will be required to pay a non-refundable booking fee of $200 to reserve your time-slot, and the balance is due mid December 2018.
Payment Options
I can either invoice you the entire amount (direct debit), or you can pay instantly online (credit card / PayPal)…
About the Photographers
Kendra Benson — Kendra's style is a natural, elegant, and low- stress style of photography — no posing or putting you into awkward situations. She just wants you to have fun, and let her capture those happy, candid moments. Her service includes re-wedding consultation to discuss style and details, and your retouched, high-resolution photographs on USB with no hidden costs, or printing restrictions.
Paul Donegan — Paul is an accredited member of the Australian Institute of Professional Photography who creates images that show exquisite attention to detail, perspective and style. His work takes in the landscape and the natural beauty of the couple and their world.
FAQ about this pop up wedding at the majestic Margaret River Heartland
Q:  Is it as simple as turning up?
A:  Yes! You need to lodge your NOIM form with me at least one calendar month prior, but that's the only limitation with regards to "time".
Q:  How many guests can we have?
A:  We recommend no more than 10 guests (babes in arms are welcome extras).
Q:  What are the legal requirements?
A:   Just like any regular marriage ceremony, you will need to lodge a Notice of Intended Marriage form with Anita.. I will let you know the rest with my "Next Steps" information.
Q:  Is it accessible for wheelchairs, the elderly etc?
A:  Yes, but give me notice so I can make arrangements.
Q:  How long does this pop-up wedding go for?
A:   Each of our couples enjoy an hour each which is made up of ceremony and photography. It is then only a short drive from here to Rustico (Hayshed Hill), Vasse Felix, Cullens, Cheeky Monkey, and Fishbone where you can enjoy your first meal together as husband and wife.
Q: This date doesn't suit — can you do it another time?
A:  Sure thing. Stay in touch with the Pop Up Weddings Margaret River Region Facebook page for more dates and venue announcements, or consider an elopement package and have the day to yourselves.
Q:  I have more questions! Can I contact you?
A:  Yes! Phone me on 0417 937 436 (I'm GMT+8 time zone), use the contact form to ask your question 😀 I'm at your service!!