OK, OK… Having blogged my 1st 100 weddings, followed by another 70 wedding stories, followed by the wedding ceremony / elopements conducted in the 2014-15 wedding season, it appears I've started something.
When meeting with couples to plan their ceremony, they are starting to mention, "I wonder what you're going to write about us?"
Yikes, have I unwittingly established expectations? Oh well… luckily, keeping a memoir of my wedding ceremonies is something I love doing.
And so, as I commence my 2015-16 wedding season, it is my pleasure to continue bringing you my "real-life wedding stories as remembered by the Celebrant"…
1. R&X: So, wedding season 2015-16 began yesterday for me, and I'm still smiling. The rain stopped just long enough for everyone to shelter under the huppah (wedding canopy), witness the signing of the katubah (marriage contract), and yell out Mazel Tov (congratulations!) upon the breaking of the glass.
It was really lovely to help the couple incorporate some of their traditions into their ceremony, to pay homage to their heritage and make it their own.
2. M&R: Another elopement under the dead tree at Margaret River Heartland. I always look forward to seeing how each couple will "style" the tree to make it wedding-y. The groom had popped out earlier that morning and made an arch with a length of white cloth — simple but romantic and effective!
3. Peter & Jenny: Wore sneakers for the first time to a wedding… This because it was held at the top of the 53m tall Gloucester Tree in #Pemberton and I was asked to climb it! Heels just wouldn't have cut it!
The President of the Pemberton Historical Society turned up too, as this was the first wedding in history at the top of the tree. I guess that's one way to hit the Pemberton history books!
The couple are cycling from Perth to Albany, and decided to elope en route. Despite being the barest-of-bare-bones ceremonies (just the legals!), there were still tears of joy (from me too!), and heartfelt congratulations from passers-by.
View the rest of the photo album here.
4. R&G: It poured with rain, but nothing would dampen the spirits of these two, who married on the back porch (instead of the back garden) and celebrated regardless. That is was a "day of infinity" helped — 8th day of the 8th month 2015 (which adds up to 8): 888. Luckyyyyy!
5. J&E: A quick elopement in the Boranup Forest with their two adorable daughters and a vintage car to die for. My AirBNB guest was delighted to act as a witness to their nuptials!
6. N&E: I travelled to a country town in Victoria for this fairytale (literally! Disney princesses abounded!) wedding. Despite being scheduled during the 4th quarter of the AFL Grand Final, I was thrilled that the guests remained engaged in the ceremony, smiling throughout. (I didn't catch a single person sneaking glances at their phones to get score updates!)
7. S&K: The groom beamed throughout the ceremony with tears in his eyes. Clearly besotted! I love facilitating marriage when the love is so palpable!
8. D&J: An intimate wedding on Redgate Beach, with tears galore as letters from (absent) sisters were read out. I was pleased to be able to do my bit to help the couple get their marriage certificate in record time, with personal phone calls to the BDM to keep an eye out for my express-posted paperwork. The bride received her certificate within two working days of her wedding!
9. C&N: I'd conducted a commitment ceremony earlier this year for this couple, who dropped by the farm to "make it official". We stood under a peppi tree for shade, said the bare minimum words to solemnise the marriage, and whooshka, deal done. Easy peasy orange squeezy! Even quicker and easier than a registry office wedding!
10. C&G: I married this couple on my birthday! They had been through years of trials trying to get her immigration in order, and so it was an especially joyous time for them, and a privilege for me, to marry them under the old tree at the farm. Afterwards, my husband took me for a birthday lunch at Rivendell Wines which was superb. They made me feel more special than I was already feeling! Exceptional service, amazing food, lovely grounds and ambience.
11. G&K: The couple married in the Boranup Forest — a surprise destination for the guests, and a thoroughly beautiful location in which to get married. They released butterflies as a symbol of "beauty and good things" which are now doing good things pollinating plants in the forest!
Update (after receiving a beautiful thank-you note)…
12. B&N: Being Victorian, they wanted to marry on Melbourne Cup Day. They didn't count on most restaurants being booked out on the famous Tuesday, however, so we brought their wedding day one day forward. They married by the old jetty on Hamelin Bay beach, and re-boarded the bus for a day of wine-tasting.
13. J&N: It was the windiest conditions I'd ever experienced on Bunker Bay beach. The wind blew the flower out of my hair, and for one scary second I thought I was going to be chasing my paperwork down to the shoreline! See if you can pick which groom belongs to this wedding on my video: "Yes Dear" — an art project in which I recorded 50 grooms saying the 2 words for a successful marriage 😉
14. Nick & Jess: Oh my Gooooddddd I still tear up when I think of this wedding. The bride entered the clearing in the forest at Karriview Lodge accompanied by all the female guests. Yep, all 40 or so of them. I was standing next to the groom as she peeked out from behind her friend's shoulder… I don't know who gasped the loudest when we saw her — me or Nick! She looked stunning, and so relaxed carrying a glass of wine instead of a bouquet! Well played Jess and Nick, well played.
15. B&K: Despite only meeting this couple for the first time the day before their wedding, I was still able to "get" the type of ceremony they were after. Guests gathered on the lawn area of the Pullman Beach Resort while the cutest flower girls heralded the arrival of the bride.
16. J&H: It's been a while since I've done a wedding at Old Broadwater Farm, so I was pleasantly surprised to see all the upgrades they've been doing. The bride did the styling herself, and I must say, she did a stunning job — giant dream-catchers hanging from the big tree, vintage chic theming throughout the lawn area, and fairy lights strung through the treetops above the outdoor dining hall.
17. M&S: I got to say "boobs" in a wedding ceremony! Let me explain… I invite my couples to send me three things they love about each other, and I tailor-write a closing blessing for them, incorporating these three things. The groom said he loved his wife's boobs, so in staying true to my promise of writing a ceremony that suits my couples, I included it! The guests loved it — they "got" that the ceremony had indeed been tailored to suit the couple.
18. J&E: What a sweet couple! I really enjoyed marrying them in front of their warm-and-welcoming family and friends. They married by the lake at Willy Bay Resort (which is stunning, by the way), with lots of smiles and heart-felt joy. Again, another couple I'd met only the day before, but they were so warm and open it was easy to "get" their personalities and deliver a ceremony that suited them down to the ground.
19. Macca & Heather: My final wedding from 2015, and I'm still smiling! Michelle Troop from LePhotogenic captured the joy and celebration of this amazing day at Fair Harvest Permaculture in Margaret River. I encourage you to take a look at the beautiful wedding album she created!
20. G&H: The couple arrived by helicopter, swooping low over the lovely grounds of Wonnerup House. It was a total hit with the guests, who gathered by the fence to watch them land. The couple then walked to the aisle with all the guests gathered around them, as excited as clucky chickens, and the bride walked down the aisle to the epic drums in Phil Collins song, In The Air Tonight.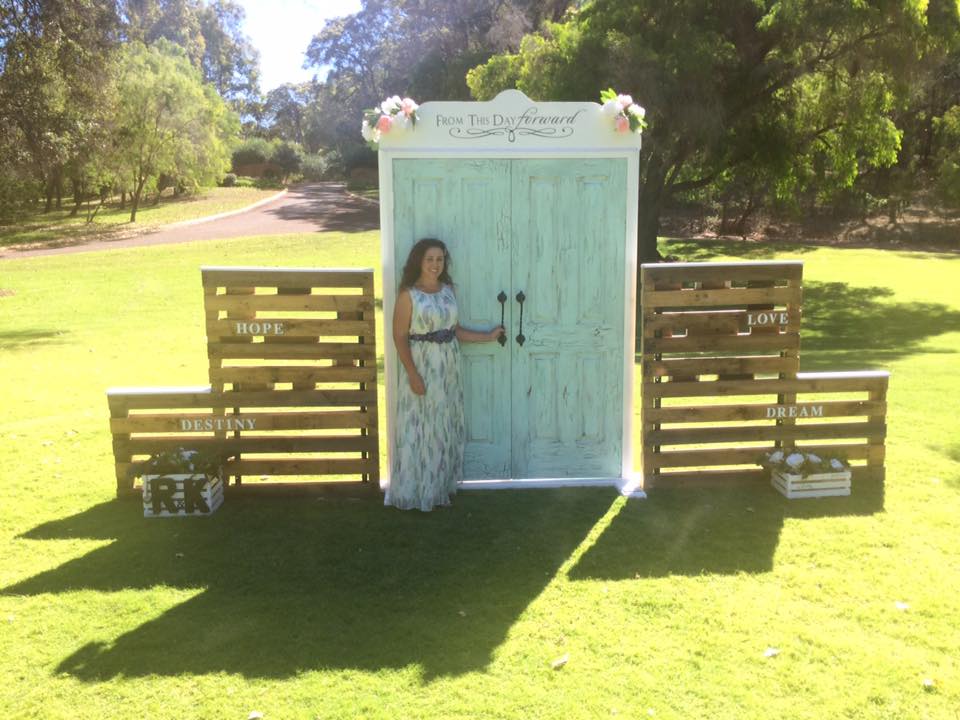 22. P&S: Wow. This is one elopement I will never forget. We had three attempts to tie the knot. I won't share the details because it's the couple's story to tell. But I will tell you this was the most simple-of-simple elopements you could get. The couple's ideal was to keep things as low-key and minimalist as could be. So that is what I gave them. (I'm still smiling, it was so lovely in its incredibly simple way!)
23. G&S: Nawwww, this gorgeous couple married under the old dead tree at Margaret River Heartland, and were so gracious, lovely, stylish and friendly… Plus, they had the amazing Russell Ord photographing them, so yeah, another favourite. The epitome of "eloping is cool".
24. W&M: They married at "Skyfall", a stunning property between Yallingup and Dunsborough that was just perfect. I especially loved that while they held it together during the ceremony, there were tears as I read them their unique, tailor-written closing blessing that they elected to keep as a surprise for their ceremony. It's a real validation for me, as a Celebrant, that I "get" my couples. I "get" what is important enough to them that there is real emotion in their ceremony.
25. C&P: The bride forgot her bouquet, so while we standing on the beach ready for her arrival, we got the news she'd turned back to get it…. Which is fine, except… it meant a 90 minute delay and a clash with another wedding! Never mind! I ducked away conduct the other wedding (next in this story!) and came back to find them fully ready — calm and happy — to get married. WITH the bouquet!
26. J&K: The groom is younger than my son by three days. Now that is pretty sobering! I loved that despite being young, he was completely into taking this step, and marrying his gorgeous Kate.
27. J&K: I met these two the day before their wedding and knew immediately  it was going to be a ceremony full of laughter and "keeping it real".
Heyyyy look at that. I've (suddenly!) realised I've had two J and K in a row! What are the chances?

Moving on…
28. B&M: Must have been one of the windiest days in Bunbury, but their beach wedding turned out to be lovely. I got to use the line about "When you realise you want to live the rest of your life with someone, you want to start living it now!"… It was completely organic, timely and appropriate, and judging by the "Awwwww" from the guests, they loved it too.
29. A&J: Originally the bride had asked me to find an Elvis impersonator to conduct her ceremony, but in the end, it was a memorable and beautiful ceremony without that extra "bang". A truly lovely, bohemian chic, stylish and 100% DIY farm wedding.
30. J&R: This English couple were completely calm and smiley and over-the-moon… even when a SHARK cruised by, so close to the beach that I had to pause proceedings until the gasping and pointing and some oh-my-godding had finished!
31. D&K: Wow, this couple wanted a simple ceremony, but felt they had to apologise discreetly to their guests (who had expressed their desire for something more than the "I do")… So we came up with a beautiful way to gently warn the guests that they were in for, indeed, a simple ceremony.
32. J& S: You know what's great about having sexy lashes? They're never going to sag! Or get high cholesterol! Or diabetes! (Or any of the other "in sickness and health" thingies that couples vow to love each other through…) This bride knew exactly what she was doing when she fell in love with J's lashes!
33. L&B: When I first met the groom he didn't say much — his fiancé was so bubbly and beautiful I think we were both in awe. But I'm pleased to say, even this far into my Celebrancy career, I'm still getting pleasant surprises. The groom got his "star power" on, and his confidence SHONE throughout the ceremony. It was so lovely to see, and I could see his bride was loving it too!
34. C&T: I'm glad I arrived my habitual half an hour early for this ceremony, because I'd barely had time to set up my amp than the bride started her walk down the aisle! They'd brought their ceremony forward, but forgot to let me know! It doesn't happen very often, but when it does…
35. M&C: The photographer got to make the choice where he wanted this couple to stand for their ceremony. Given, it was a rainy and blustery day. Fortunately, the sun came out for the 20 minute ceremony (hey — I'm the lucky Celebrant — doesn't it always?!)
36. M&A: I met this couple originally as guests in my AirBnB room. I was delighted when they got in touch a year later to ask me to be their Celebrant! We snagged the most beautiful weather, practically in the middle of winter, for a (my)-world-first-winter-beach-wedding. Totally lovely.
37. A&Z: And ta-daaaaa! It's smack bang in the middle of winter and the couple awoke to a glorious day for their nuptials at Aravina Estate in Yallingup. It made my day when the "father" of the bride thanked me for a warm, vibrant and beautiful ceremony. "You looked like you enjoyed every minute," he said.
I was totally stoked to receive such lovely, affirmative feedback on my presentation style.
On that note, yes, I think it is fair to say, I did enjoy every minute, of every wedding ceremony, of every couple's huge smiles, and the personal touches I was able to bring to every couple's big day.
Thank you one and all for choosing me to be your Celebrant, and for trusting me with presenting your beautiful wedding ceremony!
Feel Free to Comment / Share!