**** 3 March 2018 now available! ****
Shotgun wedding Margaret River
Saturday 3 March 2018.
3 March is one the most popular wedding days of the year, and amazingly, it could be yours! I've created this Shotgun Wedding event to cater for those couples who want to marry quickly, fuss-free — no drama, no politics, no expense!
Lodge your paperwork with me by 3 February, and you could be enjoying a simple ceremony in a private forest location in Cowaramup, in the Margaret River Region. All the essential details are sorted, so all you have to do is rock up, look radiant, and we'll do the rest.
Get married in this simple and sweet,
light-hearted and stunning (!) "Shotgun Wedding"
3 March 2018, on a farm in Margaret River — you choose the time!
What is a Shotgun Wedding?
A shotgun wedding is a marriage that is arranged very quickly and suddenly. Traditionally, they occurred to save the honour of the woman who may have found herself pregnant — in the olden days it was shameful to be a mother out of wedlock.
Nowadays, there are many reasons for a couple to marry quickly, and not all of them involve a pregnancy… Couples might choose a shotgun wedding because they:
want a marriage, not a wedding — they just wanna get married, fuss-free, without the distractions, politics and expense.
are heading overseas to get married in Bali, and oops! — didn't realise they needed to get legally wed in Australia to be formally recognised as married.
want to get the legals done and dusted, and have a big party later.
are travelling and need to take advantage of the time they have, where they have it!
have been engaged for 20 years, and stuff it, if not now, then when?
actually are pregnant, and decide they both want the same surnames on the birth certificate.
have been thinking about going to the Registry Office, but decide they'd like something a little more personal and memorable.
Whatever your reason, a Shotgun Wedding is the simplest, most straight-forward and fuss-free way to seal the deal and tie the knot, outside of the Registry Office.
INCLUDED in this shotgun wedding event in the Margaret River Region: $650
Celebrant*: Anita Revel, described as modern, light-hearted and genuine;
Venue: You have the choice of two locations to get married:

In front of this epically gorgeous tree; or
In front of the LOVE sign by the private forest

Permit: I have booked the venue on your behalf — no extra paperwork required;
Guests: Up to 4 guests or thereabouts;
Witnesses if you don't have your own.
* You do have the option to choose your own Celebrant but you may be subject to extra fees.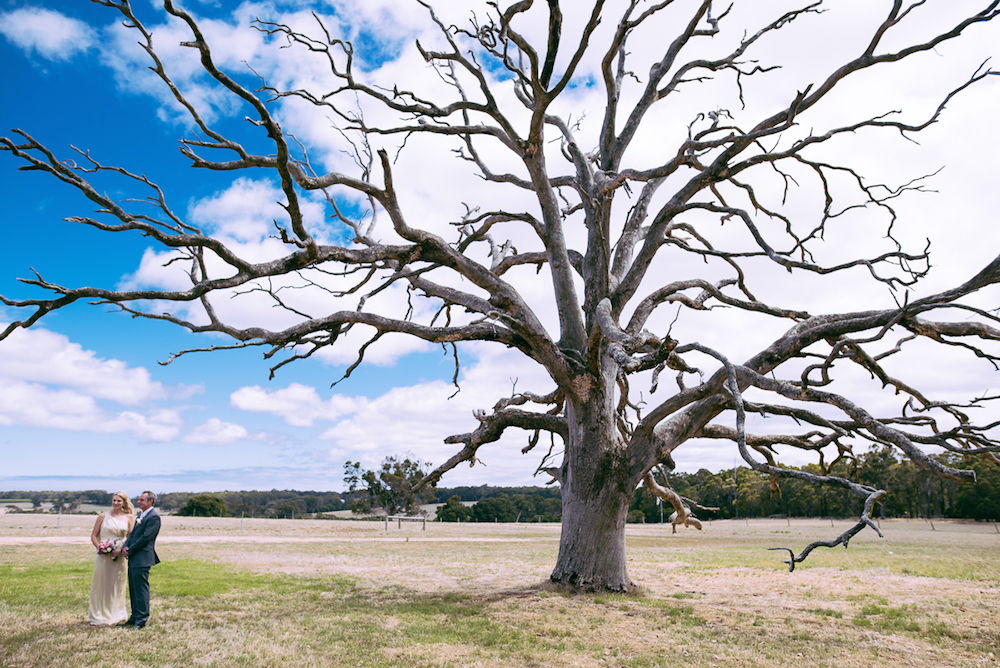 Book your shotgun wedding Margaret River Heartland
Time slots available: from 11am on the hour, all day. Simply register your interest below, selecting the time o'clock slot you'd like, and I'll contact you with "Next Steps". (I shall update this information as bookings come in.)
11am AVAILABLE
Noon AVAILABLE
1pm AVAILABLE
2pm AVAILABLE
3pm AVAILABLE
4pm AVAILABLE
Note: You will be required to pay a non-refundable fee of $650 to reserve your time-slot.
Step 1: Book your time. Payment Options…
In a shotgun wedding, time is of the essence! So, you can pay instantly online (credit card / PayPal)…
FAQ about this shotgun wedding at the majestic Margaret River Heartland
Q:  Is it as simple as turning up?
A:  Yes! You need to lodge your NOIM form with me at least one calendar month prior, but that's the only limitation with regards to "time".
Q:  How many guests can we have?
A:  We recommend no more than 4 guests (babes in arms are welcome extras).
Q:  What are the legal requirements?
A:   Just like any regular marriage ceremony, you will need to lodge a Notice of Intended Marriage form with Anita, at least a calendar month out from your wedding day. I will let you know the rest with my "Next Steps" information.
Q:  Is it accessible for wheelchairs, the elderly etc?
A:  Yes, but give me notice so I can make arrangements.
Q:  How long does this shotgun wedding go for?
A:   Each of our couples enjoy 30 minutes each which is made up of legal checks, ceremony, and time for a quick photo or two.
Q: This date doesn't suit — can you do it another time?
A:  Sure thing. Stay in touch with the Pop Up Weddings Margaret River Region Facebook page for more dates and venue announcements, or consider an elopement package and have the day to yourselves.
Q:  I have more questions! Can I contact you?
A:  Yes! Phone me on 0417 937 436 (I'm GMT+8 time zone), use the contact form to ask your question 😀 I'm at your service!!