As one of Margaret River's most popular marriage celebrants, I've seen my fair share of wedding signs —
Classical signs, hand-painted signs, signs carried by kids, symbolic signs, subtle signs, elegant signs, quirky signs, chalkboard signs, signs hanging from trees, signs tacked to street signs, signs hanging from helium balloons, cut-out signs, hand-written signs, and of course the romantic signs scattered around the ceremony and reception areas.
Here is a collection of what I call, the "good, bad and ugly" of wedding signs…
"Good" Wedding Signs
Shoes here; Vows there; Love everywhere
Do you know how difficult it is to walk on sand while wearing shoes ? And yet, I see guests constantly tip-toeing across the beach to the ceremony location with high-heels, wedge sandals, and even socks and shoes (for the guys).
How relaxing and civilised to embrace the beachiness of the couple's theme and go barefoot? Guests do happily give air time to their feet — if they were given a spot to put their shoes!
(Pssst, the collection of shoes never fails to attract the wedding photographer's attention — you're bound to end up with a photo of all the shoes!)
Pick a seat, not a side
If I had a dollar for every time an older guest asked me, "Which side is the groom? / Where do I sit?" I'd be retired by now… 😉
Generally speaking, older guests are used to witnessing wedding vows in Church. There is a traditional order to the ceremony, a traditional set of vows, and a traditional place to sit according to whether you're a guest of the bride or groom.
In civil ceremonies, however, all traditional rules
can be broken.
That's why this is a nice sign to place at the top of the aisle to inform your guests to "pick a seat, not a side" so that they don't have to stress about traditional protocol.
No seating plan…
For the more casual wedding where the aim is for guests to mingle rather than "find their seat", this is a great theme for a sign.
I Do / We Did
Many of the Margaret River region's wineries and wedding venues are on expansive grounds. Once the guests have parked and headed towards your chosen venue — where do they go next? This cute sign tells them to head left for the ceremony, and right for the reception. Easy as! (And no lost guests!)
Get the kids involved…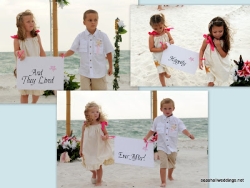 Looking through my first marriage register, I realised around 30% of my weddings have involved kids.
I love including them in some way or another in every ceremony (depending on their age of course), but one way is to have them precede the bride's walk down the aisle carrying words of sentiment.
Here are some ideas for wedding signs depending on how many kids there are…
1 child:
Here comes Mum!
Love


.

2 children:
Here Comes / The Bride
I do / I do
Hey Daddy / Here come Mum!


.

3 children:
And they lived / happily / ever after
Today / we become / a family
"Bad" Wedding Signs*
I can't help but wonder…
In time to come, will this bride regret using twee humour to precede her down the aisle, rather than building anticipation for one of the most important moments of her life?
I am absolutely a fan of the unplugged wedding, but as a fellow wedding guest, can I suggest saving the signs for something more… heart-felt?
As your Celebrant — ergo the person responsible for making your wedding ceremony exactly the way you like it — if an unplugged wedding is what you want, I do have some very diplomatic ways to ask guests to please put their cameras away (at least while the bride walks down the aisle).
In 100% of cases, the guests "get it" and are happy to put their cameras down in light of the beautifully phrased request.
And do you know what else? Every photographer that has heard me make this request, in the most beautiful way possible, has swung around and stared at me in awe. "Thank you!" they say.
(And for the sake of intellectual property, I won't tell you what else they say — until our initial interview!)
"The Ugly" Wedding Signs*
Oh gosh. Here it is… My call on the "ugly" signs. First up, let me explain my thoughts on what entering into marriage is about…
Marriage is a promise between like-minded souls to become even better friends with the passing of each year. Read the entire wedding blessing —>
Marriage is not about:
"escaping" commitment;
running away;
making light of a life-turning event.
What marriage is…
Well, rather than repeat the rant I did about the Jennifer Aniston / Justin Theroux engagement, I think I'll let you read about "what marriage is"… here!
(That rant about marriage was so good it inspired a book for brides, with the backing of relationship counsellors!)
OK, so there you have it. If you have a fabbo sign you've seen, please feel free to post the link to this article to inspire fellow brides and grooms~ xx
Shine on!
Anita
PS Want some printables?!
Here are a couple I have sourced:
PS
* I am quick to say I'm not casting judgment on anyone who uses these signs, but I am suggesting there is a better way to create humour in the ceremony than to trivialise the importance of the vows.