Love lock, love-heart locks, wish locks, luck locks, or simply old-fashioned padlocks… whatever you call them, using a padlock in a marriage ceremony is symbolic gesture of everlasting love.
Quick Links:
---
About Love Locks / Luck Locks / Union Locks / Wish Locks
The story goes that once a couple close a padlock together, just as the lock cannot be unlocked, nor can their love and commitment to one another. If the padlock comes with a key, the key is tossed into a river (or ocean), or tied to a helium balloon and released during the wedding ceremony.
This practice is particularly popular in Europe. This photo by Libby Zay shows the Hohenzollern Bridge in Cologne, Germany, where hundreds of locks have been attached to the bridge.
No doubt, hundreds of keys have been tossed into the Rhine River once vows of eternal love have been exchanged!
The tradition is spreading beyond Europe… Marie Viljoen has documented a range of love locks on the Brooklyn Bridge, which according to the Brooklyn Paper, are in danger of being removed by authorities.
It seems that in Italy also, Italian authorities are getting tired of their Ponte Milvio being covered with the testamento d'amore, and police are now ticketing lovers caught in the act (of placing a lock on the bridge). To help stave off the "vandalism" they created a website where lovers can now place a virtual lock on the bridge instead.
So how to bring the practice to Australia, where authorities will also be inclined to remove locks placed on public property? I have a solution…
My husband and I recently celebrated our 7th wedding anniversary and wanted to do something as a way of saying, "Wow, we got to the 7-year-itch stage, and although it was tough at times, we'd really like to keep growing stronger and older together."
Not so much a vow renewal, as a small gesture of consciously saying, "Yes, you are still the one for me."
So we decided to attach a love lock engraved with our wedding date to a gate on our farm, which we have named the Margaret River HeartLand.

The Love Lock gate in Margaret River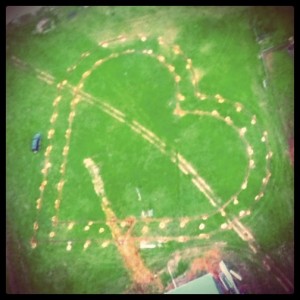 Last year I planted a huge Avocado and Tahitian Lime orchard in the shape of a love heart, and in time will build a wedding chapel in the middle of this heart.
<—– (You can see how big it is – the blue dot on the middle left of this aerial shot is my husband's ute!)
The gate we attached our love lock to is the gate to this area which I hope will see hundreds, (if not thousands!), of couples locking their lock before:
tying the knot,
renewing the knot,
making a wish,
creating good luck,
welcoming a baby in a naming ceremony, and so on.
We welcome loved-up couples to add their lock to this gate also. It is private property so you can rest assured the locks won't be removed by authorities. We just ask, as a courtesy, that you let us know beforehand, and if it suits, that you post a photo of your lock on the Margaret River HeartLand facebook page.
Oh yes! And before we forget… here's a map to guide you to the fence! The address (for your GPS) is 356 Miamup Rd, Cowaramup. We recommend you adding your lock to the gate (rather than the fence) as the fences tend to need upgrading – gates are easier to preserve for posterity.
Purchase your own love-heart shaped padlock
PS These love locks are for sale via PayPal for AUD $19.95:
Here's that address again: 356 Miamup Rd, Cowaramup. We have installed a white Balinese flag and big white numbers (356) on the fence post, so it should be easy to find.
And finally…
… a pic of my 4-year-old helping her daddy instal the flag. For the record, she wears that "Tiffany blue" tutu five days a week. (The other two, she wears a purple faery dress.)
Other Love Lock Fences and Locations in Australia
Although many European bridges are laden with padlocks, the tradition took several decades to gather momentum.
It is a relatively new practice in Australia, with only a handful of locations identified as "love lock" locations. I will add to this list as I find more… Bear in mind, that some are public locations, and the authorities may remove the padlocks at any time.
Margaret River Celebrant encourages couples to "lock up your love"… in the news
It seems everyone loves a love story… Rhy Dickinson asked for a "little story" that ended up being a full page story in the August 27 edition of the Augusta Margaret River Times.
The story got lots of positive feedback from the community, and from my couples as well… many were quick to put their hand up for a love lock!
You can read the story in full via the Yahoo news service.