Beach Wedding? Yes I Do!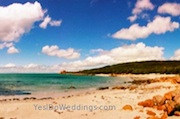 Dunsborough locals know that south west beaches are world-class for leisure activities such as snorkling, paddling, ocean swimming and surfing. More recently, they are also becoming very popular for beach wedding ceremonies.
As a Marriage Celebrant local to the Margaret River region, I have conducted dozens of beach wedding ceremonies in the south west. I can't pick one favourite beach out of them all, but I am able to shortlist a few as ideal for the purpose of ceremonies.
Pssst. Don't forget to book your preferred beach with the Shire to ensure a problem-free event.
Meelup Beach
Meelup Beach is a short drive west of Dunsborough. It is particularly popular with locals for the expansive lawn bordering the beach, ample shade over the lawned areas, and generous picnic facilities along the foreshore.
Many couples choose to marry at the eastern end of this beach (far right of this photo) where the terracotta-coloured rocks provide a picturesque backdrop and act as a convenient signing table!
Castle Rock
On the way to Meelup Beach, you'll see a small road sign that says "Castle Rock Beach." I think it's a small road sign on purpose – so that this beach will remain secluded and quiet for those who love being alone in nature 😉
It's definitely worth checking out if you want a more private ceremony.
Once again, the best photo opportunities are at the eastern end of the beach, where there are enough reasonably-sized rocks to design a circle or love-heart in the sand, in which the couple can stand.
Shhhhh. It's a Secret!
On the same stretch of coast, there are a couple of very private coves. One is suitable for a small wedding or elopement, while the other is  suitable for parties up to 40 guests at high tide.
The red-tinged rocks form a natural mini amphitheatre around icing-sugar soft sand. Backdrop this with the turquoise waters of the Geographe Bay and the fluffy white clouds often seen overhead, and I believe you have one of the world's most beautiful beaches for a wedding.