Dear Anita,
Thank you for being our amazing Celebrant for our wedding; you were wonderful!
We really appreciate all of your support and guidance in the lead up and helping make our wedding so personalised and special. 
You helped make it a day that we will never forget!
Love, Stella and Ryan
~ Married at Wills Domain, Wilyabrup
How to Personalise Your Margaret River Wedding Ceremony
When I first met with Stella and Ryan, they expressed their wish to include something unique in their ceremony… The plan was to pop the cork on a bottle of champagne as I pronounced them as husband and wife.
Different? Yes.
Difficult? No.
By clearly understanding their wishes I was able to tailor the ceremony to suit this additional symbolism. The ceremony flowed smoothly and everyone had huge smiles on their faces as they heard the story behind this unique act.
Here is the story…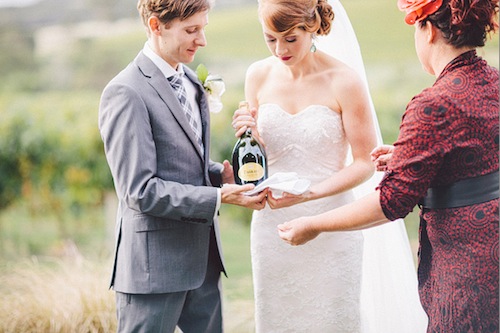 In a few moments, Stella and Ryan will begin their celebrations as husband and wife, by drinking a toast to their happiness.

But this isn't any old toast – they have chosen a particular bottle of champagne that has great sentimental value to them.

It all started in Paris – doesn't every love story? – just before Ryan's 30th birthday…

Whilst working in Paris, Stella was searching for a special present for Ryan's 30th birthday. In a small family owned cellar her eyes caught a unique champagne that she and Ryan had not seen before and thought it was the perfect gift!

After lugging it around Paris all day and carefully packing it in her suit case to make the long trip home, she brought it back to Perth to give to Ryan for his birthday.

In anticipation of making sure Ryan had a 30th birthday to remember, Stella gave the champagne to Ryan just before they were about to leave to travel down south for Ryan's birthday celebrations; she thought it would be a nice surprise and they could pop the cork together. However, Ryan's reaction wasn't as Stella expected – he didn't appear surprised or excited at all, and refused to take the champagne down south with them.

After all the effort of bringing it from Paris especially for Ryan, Stella was disappointed.

Unbeknownst to her, there were grander plans being schemed… Upon arriving at a secret destination –  Cape Lodge – Ryan led Stella to a picture perfect picnic at sunset where he proposed to her.

And in an ice bucket beside Stella was the exact same champagne that Ryan had separately chosen for the proposal!

The champagne that Stella and Ryan are opening today is the bottle that Stella brought back for Ryan from Paris…

Today they finally get to pop the cork together.
I thoroughly enjoyed personalising the ceremony for Stella and Ryan. And, I knew I'd done a great job when the groom's first words to me after the ceremony were:
"I loved how you told that story Anita! It was natural, and funny, and it got all the right reactions from the guests!"