When Alex and Amanda decided to have their wedding Margaret River, they wanted something small yet spectacular… So, they exchanged vows at the top of the Cape Leeuwin lighthouse in Augusta. (See more ways to elope in Margaret River here)
And why not?! With its panoramic 360 degree view of the Indian and Southern Oceans colliding, the area is nothing short of spectacular — in fact, it has since been included in the world's "Top 10 Ocean Views" by National Geographic.
On her third wedding anniversary, Amanda wrote:
Happy Anniversary Alexander! Love you and our little family, with all my heart, always and forever! Thanks again to Anita Revel CMC also who made our day happen up the top of a lighthouse 3 years ago!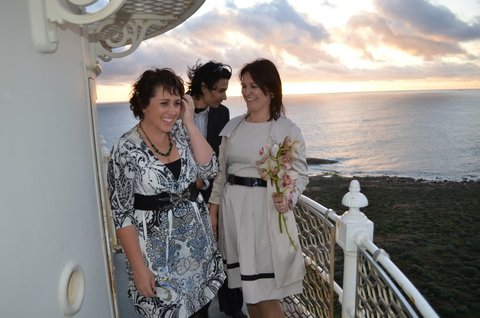 The area is also known as "Australia's south-west", or colloquially as "the bottom-left-corner of Australia" by locals. It marks the spot where the Southern and Indian Oceans meet, and where a foamy line of the two currents colliding can be seen on most days.
The couple's vows were witnessed by the lighthouse keeper, Paul Sofilas, and my husband, who also became the spontaneous photographer for the occasion.
The couple's son was also in attendance, but their little puppy had to wait downstairs (outside) for the duration of the ceremony. Poor little thing!
(But then again, waiting outside did save him from climbing 176 steps to the top! LOL)
Due to the windy conditions at the top of the lighthouse that day, it was unanimously decided to sign the certificates inside, on the topmost landing.
It was a bit squeezy, but it added to their unique wedding story.
Their ceremony above deck was exactly what they wanted, as was "going with the flow" and signing on a 130-year-old benchtop on the landing below.
As mentioned by the article in National Geographic (Top 10 Ocean Views), the lighthouse is worth visiting year round.
In summer, you can enjoy views of endless water; in winter, you feel the full force of the oceans crashing against the cape.
You can request your own tour, or as Alex and Amanda did, book a personal escort by the lighthouse keeper after opening hours. This way, they had the whole place to themselves for their ceremony and for viewing the spectacular sunset on this, their special wedding day.
Congratulations again to Alex and Amanda, and also to Cape Leeuwin for earning a spot in the Top 10 Ocean Views in the world!!
Best,
Anita Revel